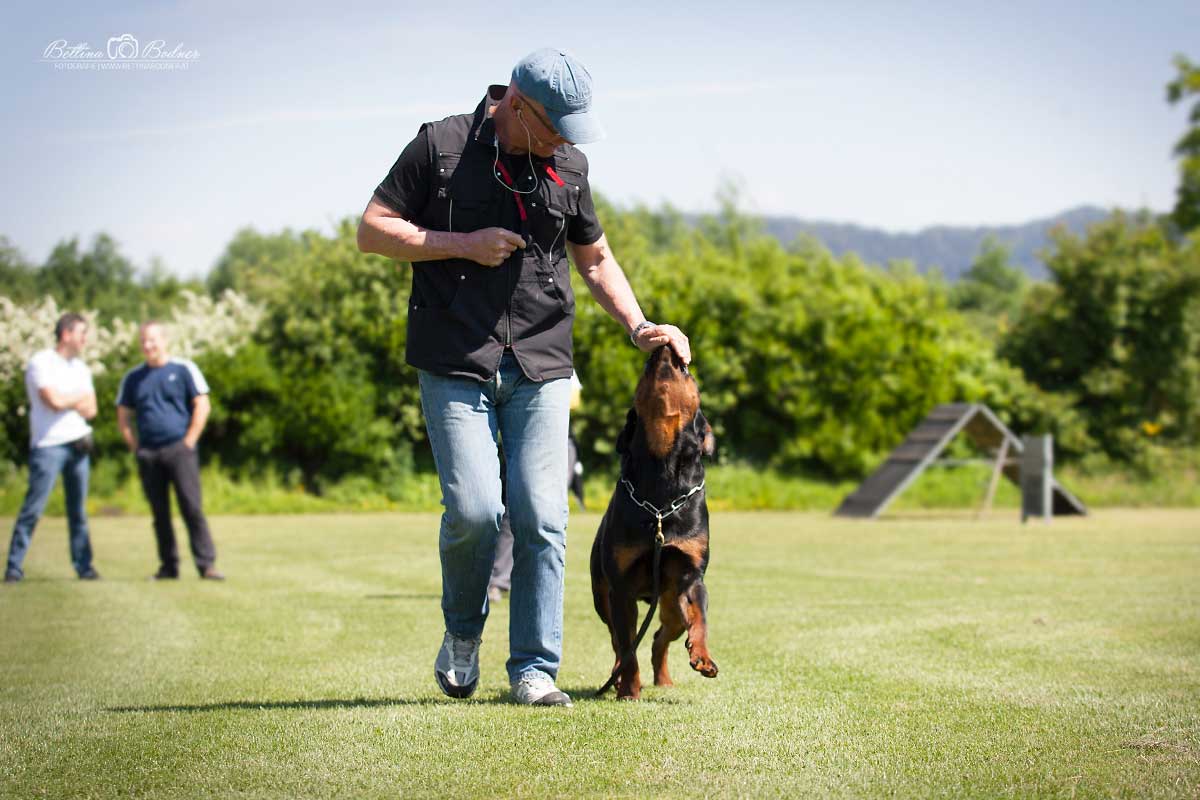 [button color="gray" size="medium" link="https://yourdogmagazin.at/your-dog-ipo-camp/" ]German (deutsche) Version[/button]
On 13th to 16th June 2018 – it's on again! The YOUR DOG IPO CAMP will take place for the nineth time in a row – the seventh with Peter Scherk – in Klagenfurt/Carinthia/Lower Austria. Full 4 days of knowledge and training. We suppose that Peter will bring his charming wife Conny as support. These two will level Klagenfurt City "the-place-to-be" regarding dog-sport for 4 days.
We have planned following: 1st block on thursday, friday (13th – 14th June) will be OBEDIENCE and the second block will be held on saturday, sunday (15th – 16th June) will be PROTECTION. It all will take place at the perfect area of the SVÖ Klagenfurt. (At this part we really want those helping hands for making the IPO CAMP so perfect and sensational for the last years.)
Enough time to discuss your questions and to try to work on the shown things with your dogs under the willing eyes of Peter.
Main language spoken will be german – but we had foreign participants an all years and they were all statisfied. There are most of the time severall participants who can translate and on working with you and your dog Peter sure will speak in english to you. During workshop Peter can give (not all, but some) information in english.
Entry fee for block Obediance (2 days): € 200,– (inkl. 20 % VAT).
Entry fee for block Protection (2 days): € 200,– (inkl. 20 % VAT).
Entry fee for both blocks (4 days): € 380,– (inkl. 20 % VAT).
Early Bird Bonus:
Payment before 1.1.2019 is reduced by € 10,– for each block!
Participation for only 1 day (maybe you don't have more time): € 120,–
Fee is the same with or without dog.
Included in the fee is participation on your choosen day(s), and 1 meal on each of the choosen days and – we suppose – a starterpackage.
(Unfortunately we can not offer you accompany-tickets anymore.)
Questions? Send a mail to office@yourdogmagazin.at.
Some more details and the entry-form you can finde over here: [otw_shortcode_button href="https://yourdogmagazin.at/anmeldung-your-dog-ipo-camp-english/" size="medium" icon_position="left" shape="square" color_class="otw-red" target="_blank"]Entry IPO Camp 2019![/otw_shortcode_button]
After completing the entry-formular you will get a eMail with the links and information to all further details. (starting time, map, possible accomodation)
If not – please control your Spam-Folder.
Impressions IPO Camp 2017: [button color="blue" size="small" link="https://www.facebook.com/media/set/?set=a.2543819795842191&type=1&l=b46ec15880″ target="blank"]Fotos IPO Camp 2017[/button]
Pics from 2016: [button color="blue" size="small" link="https://www.facebook.com/pg/yourdogipocamp/photos/?tab=album&album_id=2058767257680783″ target="blank"]Fotos IPO Camp 2016[/button]
Pics from 2015: [button color="blue" size="small" link="https://www.facebook.com/yourdogipocamp/photos/a.1855403151350529.1073741833.1775274936030018/1855403178017193/?type=3&theater" target="blank"]Fotos IPO Camp 2015[/button]
If you want to have a look on the pics of 2013 and 2014 take a look over here: [button color="blue" size="small" link="http://www.flickr.com/photos/yourdogmagazin/8753504481/" target="blank"]Fotos IPO Camp 2013 & 14[/button]